Find the Right Dumpster Rental in Cedar Park, TX
Duckbox Dumpsters has the right dumpster rental in Cedar Park, TX, for commercial construction or home remodeling projects. You will find our 10yard, 20yard and 25yard dumpsters very suitable for a wide range of residential and commercial waste. We accept a wide range of bulky items and waste materials, including but not limited to wood, metal, furniture, demolition construction waste, and general cleanup materials. Contact our support center if you have any queries about finding the right dumpster size for your project.
Everything happens with just a few clicks, from finding the perfect dumpster size to ordering, scheduling, and delivery. We offer large, sturdy roll-off dumpster rental in Cedar Park, TX, made from welded steel with an open top for effortless loading of trash, junk, and debris. Available in 10, 20 and 25 cubic yards, these roll-off containers are perfect for remodeling, clean-up, or demolition. We provide all our dumpsters on a 3-day rental basis and make sure that your choice of dumpster is delivered to your location in a timely manner.
What distinguishes us from other dumpster rental companies in Cedar Park, TX?
Irrespective of the type and size of your project, we assure prompt delivery of dumpster rental in Cedar Park, TX. Here are a few things that distinguish us from other dumpster rental services in Cedar Park, TX:
You can book and schedule your delivery online
A wide range of dumpster sizes to choose from
Clean and well-maintained dumpsters
Timely pick-up & delivery
Professional dumpster drivers to put your interest first
7-days a week, 365 days year dumpster rental services
Get An Instant Quote For Your dumpster rental in Cedar Park, TX:
Look no further if you are seeking affordable dumpsters rental in your area. The best way to get an accurate and affordable dumpster rental quote is to call Duckbox Dumpsters and speak to one of our dumpster rental experts. Whether you are looking for 10 yards, 20 yards or 25 yards container, we have the best dumpster rental price available.
About 5 Pick-up truck loads
3 days & 7 days rental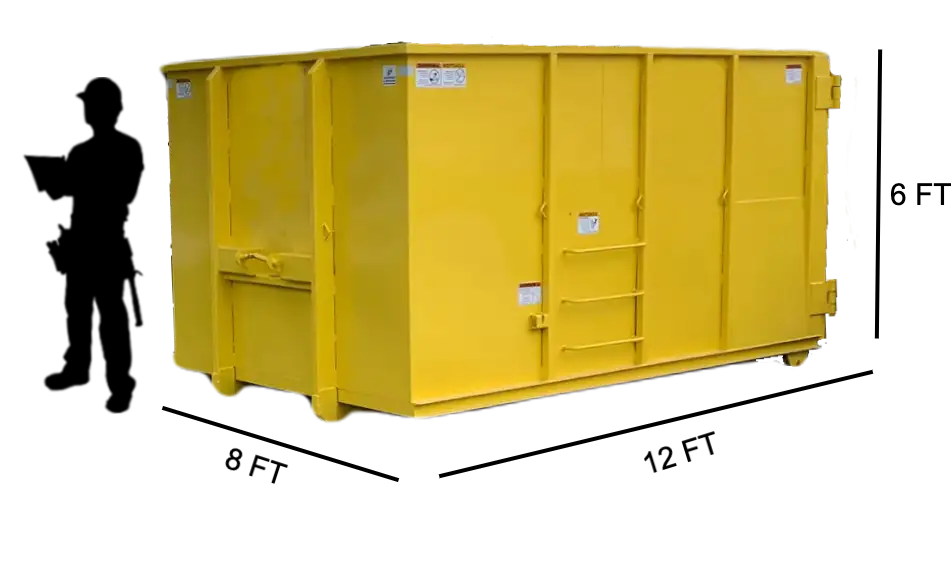 About 10 Pick-up truck loads
3 days & 7 days rental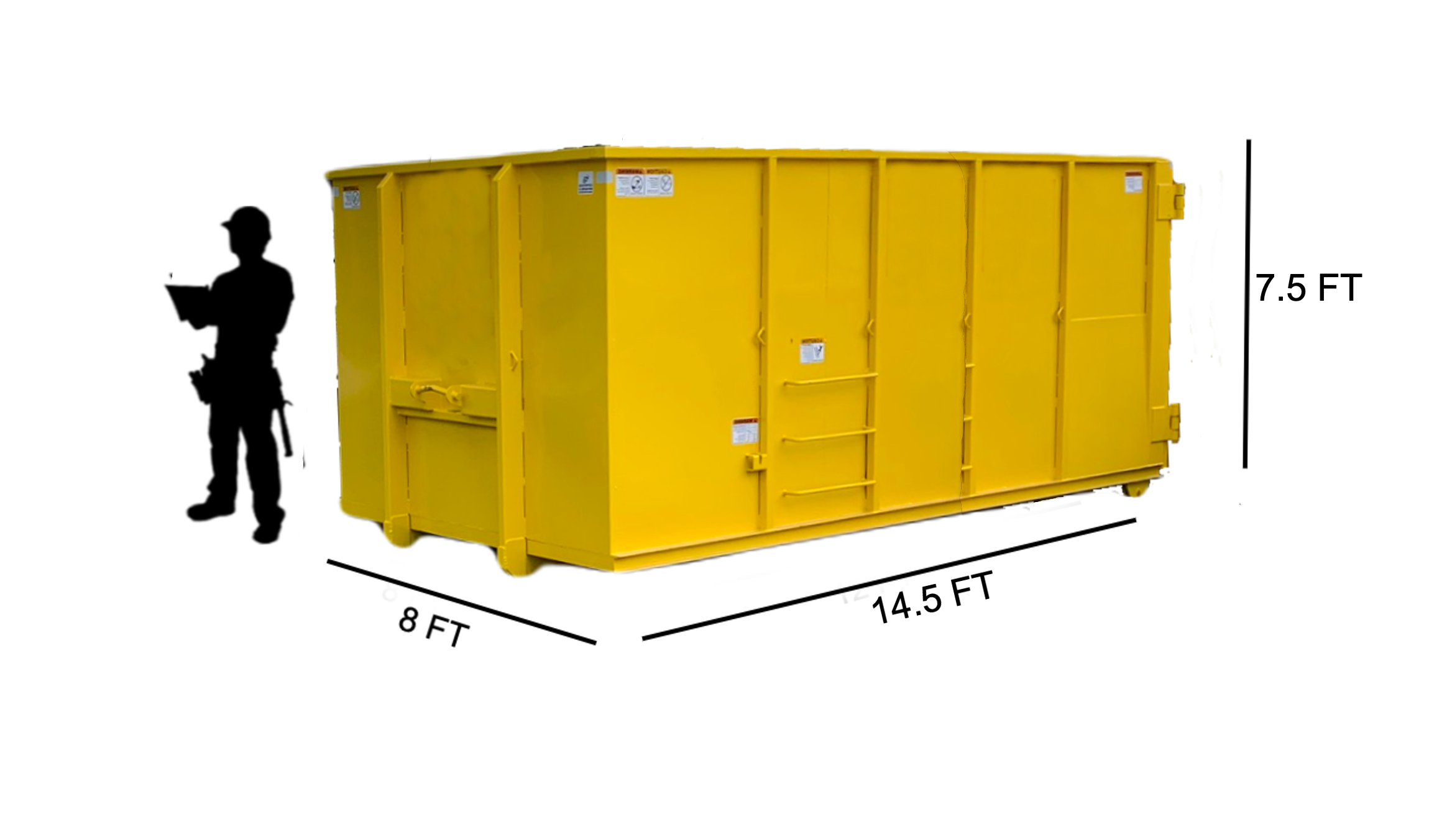 About 10 Pick-up truck loads
3 days & 7 days rental
We are serving in Cedar Park and surroundings
Cedar Park Dumpster Rental- Nearby Areas
Make your next dumpster rental fast & easy. Request a free quote today!
Welcome to Duckbox Dumpsters, your go-to source for affordable dumpsters rental. Whether you are a homeowner or a business owner, we offer a top-quality commercial and residential waste containers to meet your specific needs. Our team is dedicated to providing reliable and efficient dumpster rental solutions that will make your waste disposal process hassle-free.
Roll Off Rentals in Cedar Park, TX with fast Dumpster Delivery
When it comes to managing waste, efficiency, affordability, reliability, and level of service are key factors to consider. Fortunately, if you're in, or around, Cedar Park (ie. Austin, Leander, Round Rock and Pflugerville) our roll-off dumpster rentals provide the perfect solution. Designed to handle a wide range of waste materials, from demolition debris to household junk, our dumpsters are a cost-effective and convenient option for waste disposal.
The Right Dumpster Size for Every Project
Selecting the appropriate dumpster size is crucial to ensure the smooth progress of your project. At Duckbox Dumpsters, we offer three sizes: 10 yards (small dumpster), 20 yards (medium dumpster), and 25 yards (very close to the size of a large 30 yard dumpster), to cater to the specific requirements of various projects. Whether you're undertaking a small home cleanout or a large-scale construction project, we have the perfect dumpster to accommodate your needs.
A Prompt and Reliable Dumpster Rental You Don't Have to Worry About
We understand the importance of timeliness when you're managing a project. That's why we've made the dumpster rental process a breeze. Simply call us, choose the size of dumpster you require, schedule your delivery, and leave the rest to us (we can even provide same-day service in most cases). We'll ensure that we deliver your dumpster promptly and in the right location (with amazing service), allowing you to focus on the task at hand.
The Ideal Choice for Cedar Park Commercial Dumpster Rental
For commercial projects, waste management is a crucial aspect that cannot be overlooked. At Duckbox Dumpsters, we offer commercial dumpster rentals designed to handle the demands of commercial waste. Whether you're renovating an office space and need a 10 yard dumpster or overseeing a large construction project and are looking for a flat rate, 25 yard, our dumpsters can service almost any type of project at affordable prices.
A Range of Dumpster Sizes for Every Need
Every commercial project is unique and has different waste management needs. That's why we provide a variety of dumpster sizes, including 10 yards, 20 yards, and 25 yards. Whether you require a trash container for a small project or a larger one for a major undertaking, we have the ideal size to meet your specific requirements.
Hassle-Free Dumpster Rental in Cedar Park, TX
We believe that renting a dumpster should be a simple and straightforward process. With our fast booking system, you can get a dumpster, indicate where to place the dumpster with just a few clicks. Additionally, you can call us today and our professional team can help you pick the right dumpster size for your project, ensuring a hassle-free experience.
Residential Roll Off Dumpster Sizes
Home projects can often generate more waste than expected. Whether you're decluttering your home, renovating a room, or landscaping your yard, our residential dumpster provide the perfect solution for debris and junk removal. Just through it inside the bin.
Choosing Your Dumpster
Selecting the appropriate dumpster size is essential to avoid overage charges and ensure efficient waste management. At Duckbox Dumpsters, we offer a 10 yard, 20 yard, and 25 yard dumpster to cater to various project sizes. If you're uncertain about the right size for your project, our knowledgeable team is always ready to assist with your rolloff dumpster questions. For residential dumpster rentals our 20 yard dumpsters are the most popular.
Easy and Convenient
At Duckbox Dumpsters, we strive to make renting a dumpster as easy and convenient as possible. Our user-friendly booking system allows you to schedule your dumpster delivery and pick-up with just a few clicks. Additionally, we ensure timely delivery and pick-up to keep your project on schedule.
Need a dumpster – We Have 10 yard, 20 yard or 25 Yard Roll Off Dumpsters
Our roll-off dumpsters are the ideal choice for both small and large projects. Whether you're working on a home remodel, a construction project, or a community clean-up, use a roll off dumpster and notice the productivity results.
Dumpster Sizes to Fit Your Needs
We offer your choice of dumpster sizes to accommodate various project sizes. Whether you're disposing of old furniture, trash removal, construction debris, we have a dumpster that's the perfect fit for your requirements.
No Hidden Fees
At Duckbox Dumpsters, we believe in transparency. That's why we offer flat-rate pricing with no hidden fees. When you rent a dumpster from us, you'll know exactly what the dumpster costs, ensuring peace of mind and avoiding any unexpected charges.
Rent a Dumpster in Cedar Park, TX and Surrounding Areas
At Duckbox Dumpsters, we take pride in serving our neighbors and the surrounding areas with our top-notch professional service, competitive prices and fast delivery and pick up. Whether you're located in the heart the city or in the Austin area with the good old 512 area code, we're here to meet your dumpster rental needs.
Rent a Dumpster Today
Ready to get started on your project? Rent a dumpster today and enjoy the convenience and efficiency that our dumpster rental service brings. Whether you need a dumpster for a day or for a longer rental period, as long as you're in our service areas, we've got you covered. Book now by contacting our friendly team for assistance.
Your Trusted Dumpster Rental Company in Cedar Park, TX
When you choose Duckbox Dumpsters, you're selecting a company that prioritizes your needs. From our large inventory and wide range of sizes, to our commitment to a timely roll off delivery and pick-up, we're the ideal choice for dumpster rental. Trust us to provide you with a reliable, efficient, and clean waste dumpster for your projects.
Cedar Park Dumpster Rental for Events and Special Occasions
In addition to residential and commercial projects, Duckbox Dumpsters also offers the 10 yard and 20 yard dumpster size for events and special occasions. Whether you're hosting a large outdoor gathering, organizing a community event, or planning a festival, our dumpsters can help you manage the waste generated during the festivities.
Efficient Waste Management for Events
Hosting an event requires careful planning, including waste management. Our dumpsters provide a convenient solution for disposing of trash, food waste, and other debris generated during events. By renting a dumpster for your event, you can ensure a cleaner and more organized environment for your guests.
Flexible Rental Options
At Duckbox Dumpsters, we understand that event timelines can vary. That's why we offer flexible rental options to accommodate your specific needs. Whether you require a dumpster for a single day or an extended period, we have rental packages that can be tailored to fit your event schedule.
Environmentally Friendly Waste Management Service in Cedar Park
At Duckbox Dumpsters, we are committed to environmentally friendly waste management practices. We strive to recycle as much of the waste we collect as possible, minimizing the impact on the environment. By choosing our dumpster company, you can contribute to a greener city.
Exceptional Customer Service and Support
At Duckbox Dumpsters, we prioritize customer satisfaction. We believe that excellent customer service is just as important as providing a quality dumpster for your project. Our team is dedicated to providing you with support and assistance throughout the rental process.
Responsive and Knowledgeable Team
When you reach out to Duckbox Dumpsters, you can expect a responsive and knowledgeable team ready to address your inquiries and concerns. Our dumpster rental experts can guide you in choosing the right dumpster size for your project, provide information on rental terms and pricing, and offer valuable advice on waste management practices.
Timely Delivery and Pick-Up
We understand that timing is crucial in project management. That's why we prioritize timely delivery and pick-up of our dumpsters. We strive to accommodate your schedule and ensure that the dumpster is delivered when you need it and picked up promptly after the rental period, allowing you to stay on track with your project timeline.
Reliable Partner for All Your Dumpster Services
Whether you're a homeowner, business owner, event organizer, or contractor, Duckbox Dumpsters is your reliable partner for all your waste management needs. With our diverse range of dumpster sizes, responsive customer service, and environmentally conscious practices, we are here to provide you with efficient and hassle-free waste disposal solutions.
Long-Term Partnerships
For businesses and contractors with ongoing waste management requirements, we offer long-term partnerships that provide the convenience of regular dumpster rentals. By entering into a partnership with Duckbox Dumpsters, you can ensure consistent and reliable waste management services for your operations.
Community Involvement
At Duckbox Dumpsters, we believe in giving back to the community. We actively participate in local initiatives and events that promote environmental sustainability and community well-being. By choosing our services, you're supporting a company that is dedicated to making a positive impact around the Cedar Park area and its surrounding cities.
Contact Duckbox Dumpsters for Your Affordable Roll Off Dumpster Rentals
Whether you're embarking on a home renovation, managing a construction project, hosting an event, or simply need a reliable waste management solution, Duckbox Dumpsters is here to assist you. Contact us today to discuss your dumpster rental needs and experience the convenience and efficiency of our services. We look forward to serving you in Cedar Park, TX, and beyond. Give us a call today!
FAQs about Austin Dumpster Rental