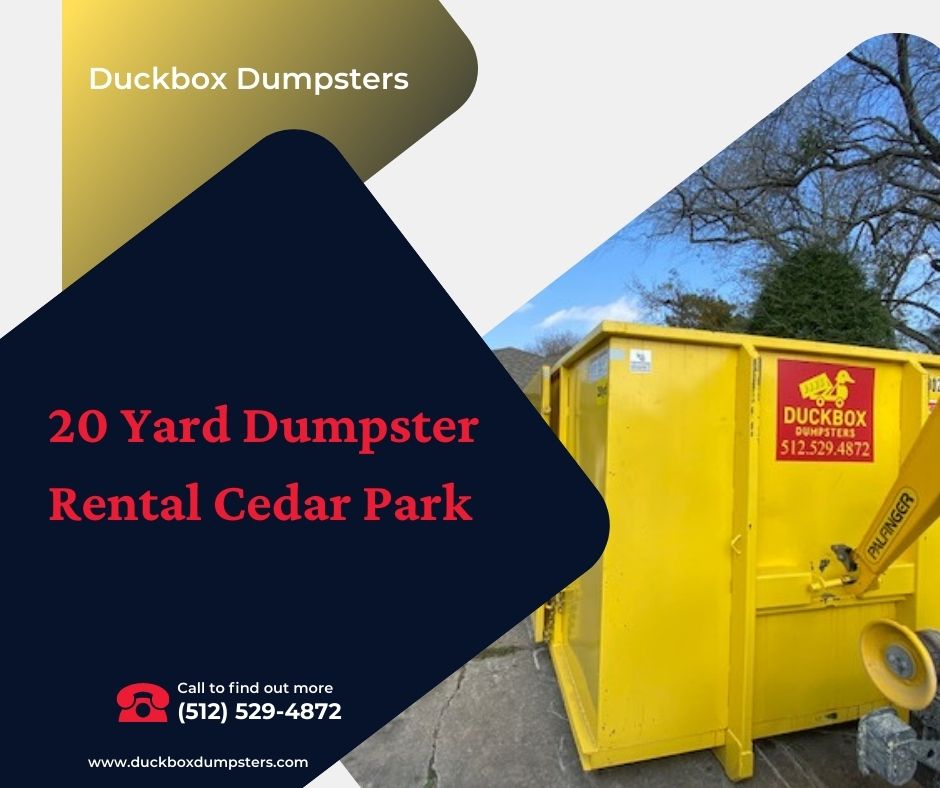 20 Yard Dumpster Rental Cedar Park
Posted By : Duckbox Team
Posted On : July 18, 2022
Everyone understands the unparalleled peace that a clutter-free environment offers. At Duckbox Dumpsters, we are in the business of making your spaces more comfortable and efficient. Whether in Cedar Park, Texas or surrounding areas, our 20 Yard Dumpster Rental, our most sought-after offering, is designed to meet your cleanup needs effectively.
| Attributes | Details |
| --- | --- |
| Purpose | Suitable for construction, renovations and large cleanouts |
| Size | Approximately 8ft. wide x 12ft. long x 6ft. high |
| Weight Limit | Typically 2.5 tons (5,000 pounds), extra weight incurs additional costs |
| Fees for Excess Weight | Prorated at $75 per ton |
The Versatility of the 20 Yard Dumpster
The 20-yard dumpster is the ideal choice for a wide range of projects both big and small. It is best suited for:
Intensive house cleanouts
Home or commercial renovations
New construction projects
Seasonal yard cleanups
Minor remodeling tasks
Roof revamps
Extensive decluttering tasks
Dumpster bag clean up
Responsible Waste Disposal
Remember, not all waste is allowed in dumpsters. As a responsible organization, we recommend avoiding the following:
Hazardous materials
Electronics
Certain concrete and asphalt varieties
Be sure to connect with Duckbox Dumpsters for comprehensive details about acceptable waste material.
Visualizing A Cubic Yard: Everyday Objects As References
To help visualize, a cubic yard is roughly the size of a standard washing machine. There are other everyday objects that measure up to about the same size: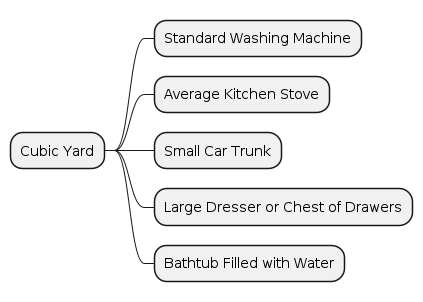 Keep in mind different materials per cubic yard have varying weights due to density differences.
Understanding the Weight Limit
At Duckbox Dumpsters, our 20 Yard Dumpsters come with a maximum weight capacity of around 5,000 lbs (2.5 tons). In any case, if your load exceeds the weight limit, we have a policy that includes prorated charges of $75 per ton for overages.
A Peek into What a 20 Yard Dumpster Can Accommodate
Here is a short overview:
Take, as examples, your aged or time-worn furniture and excess building materials- a 20-yard dumpster can easily accommodate these bulky items. Discarded flooring and unwanted drywall? These construction materials are also welcome. Both regular and yard waste constitute common items for disposal in these receptacles. Your tedious piles of scrap metal and utilized appliances are prime candidates too for ditching into the 20-yard dumpster. Moreover, homeowners often wonder about mattresses – rest assured, these too can also find their place in these ample containers. These examples represent a cross-section of acceptable items, addressing key queries homeowners commonly have when considering a dumpster for their disposal needs.
In essence, with Duckbox Dumpsters' 20 yard dumpster rental in Cedar Park, you can keep major clean-up projects hassle-free. It's time to get rid of all that clutter. Get in touch with Duckbox Dumpsters today and let's plan for a cleaner, healthier tomorrow!