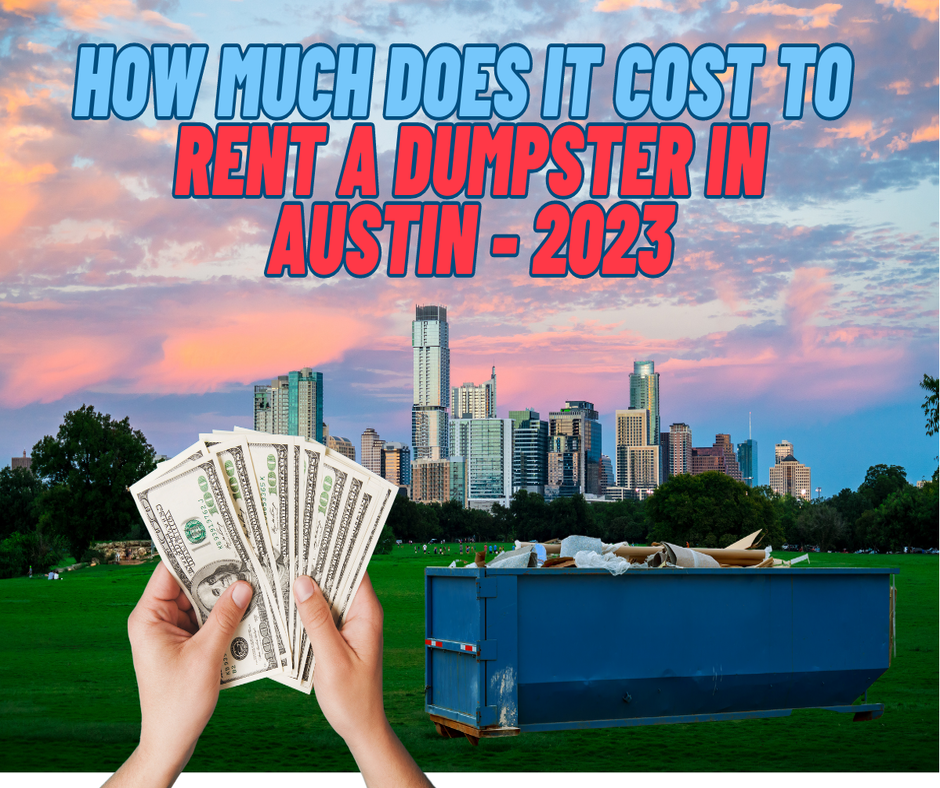 How much does it cost to rent a dumpster in Austin – 2023
Posted By : Duckbox Team
Posted On : June 18, 2023
Embarking on a major construction, renovation, or cleaning project in Austin, Texas? One hefty factor to keep in mind is effective waste management, and a dumpster rental might just be your knight in shining armor. We've done the dirty work and dug up the average costs and potential hidden fees of dumpster rental in Austin, helping you plan your wallet's fate with ease.
Dumpster Rental in Austin: The Price is Right
Feast your eyes on these average prices we uncovered for dumpster rental in Austin, courtesy of trusty local businesses:
| Dumpster Size | Average Price |
| --- | --- |
| 5-yard dumpster | $350 |
| 10-yard dumpster | $375 |
| 15-yard dumpster | $415 |
| 20-yard dumpster | $475 |
| 25-yard dumpster | $529 |
| 30-yard dumpster | $587 |
| 40-yard dumpster | $699 |
Remember: Prices may fluctuate based on location, dumpster size, and rental duration.
Some Austin-area dumpster rental companies might include extra fees for specific services or materials. Here's a sneak peek at the possible hidden charges lurking beneath:
Extra processing: Local regulations might demand special processing for certain materials, bumping up disposal costs. Exact fees fluctuate, so give your friendly dumpster rental company a ring to check for these sneaky expenses.
Tire disposal: Got tires to toss? Some companies charge a tire disposal fee, like $125 at one hypothetical business.
Mattress removal: Certain companies might charge a small fee for mattress removal (— say, $25 per mattress).
Non-Travis County or Austin residents: If you're not one of Austin's finest locals, you might be subject to additional charges, like $7 per cubic yard.
Pro Tips for Scoring the Perfect Dumpster
Renting a dumpster in Austin? Keep these savvy tips in your back pocket:
Size matters: Accurate sizing is crucial for waste management success. Gauge your project's waste volume and consult the experts at the dumpster rental company to ensure you snag the ideal sized container.
Shop 'til you drop: Gather quotes from multiple dumpster rental entreprises to pinpoint the finestdeal for your needs.
Hidden fees lurk: Grill your dumpster rental company about any additional fees like overage charges, weight limits, and forbidden items.
Read between the lines: Scrutinize the fine print to understand your rental agreement, keeping an eye out for any sneaky extra costs and company policies.
Embrace your inner earth-lover: Be eco-wise and sort through your waste materials for recycling.
In the end, being in the know about the costs and potential sly fees involved in renting a dumpster in Austin helps set your budget on the right path. With strategic planning and guidance from professional dumpster rental companies like Duckbox Dumpsters, you'll ensure seamless waste management for construction, renovation, and cleaning endeavors in AUSTIN, Cedar Park, Leander, and beyond.