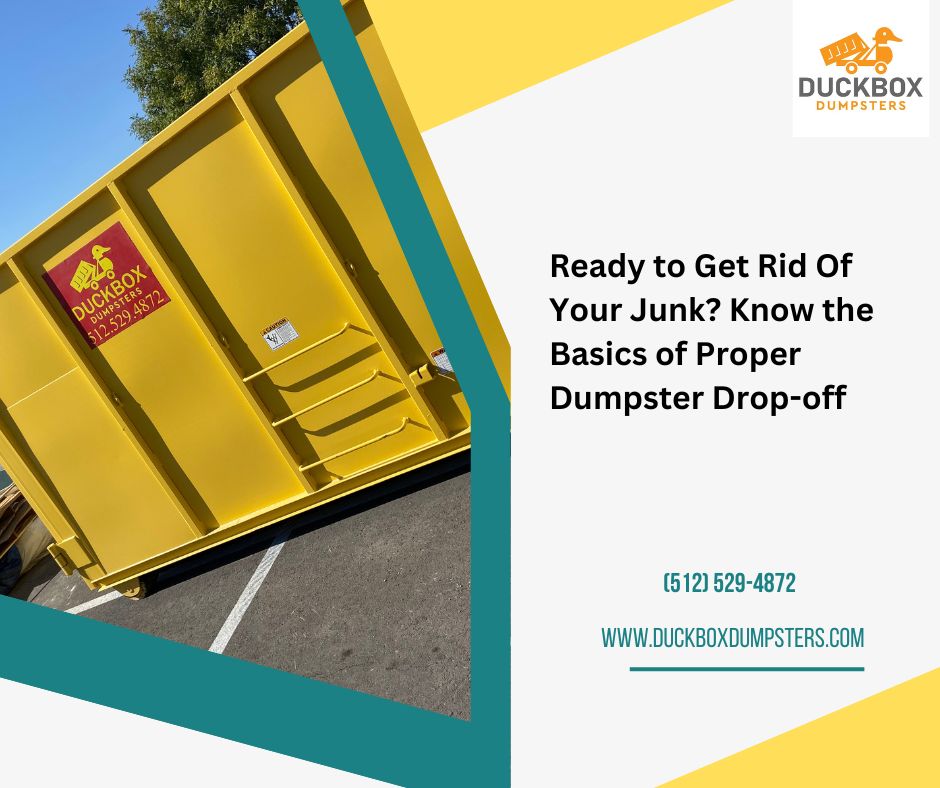 Ready to Get Rid Of Your Junk? Know the Dumpster Drop-off Basics
Posted By : Duckbox Team
Posted On : June 25, 2022
Preparing for a dumpster drop-off doesn't have to be a hassle. In order to avoid any issues when the driver arrives, it's best to prepare the area where you intend to have the dumpster stationed well in advance. By doing so, you'll save yourself time in the long run and help ensure that everything goes smoothly. Below we've outlined some easy tips for preparing for a dumpster drop-off so that things go smoothly for you.
Prohibited areas to watch out for:
It is not recommended to place a dumpster on sandy or soft surfaces, as the weight of the dumpster may cause it to become stuck. Also, do not place a dumpster on top of steep hills, as it may cause the dumpster to shift or move unexpectedly.
The ideal spots for dumpster drop-offs:
We'd suggest going for a site that's both flat and hard for the dumpster location. Examples may include a parking lot, a street (if you have arranged for a city permit), or a concrete or asphalt driveway. If you aren't able to identify such spots in which to drop off the container, so you may wish to talk to your dumpster rental provider in advance regarding alternative drop-off options. For example, in some circumstances it might actually be feasible to rest the container on a sandy or soft surface, given that you prepare the spot carefully before the planned drop-off by setting plywood on the ground.
Get rid of any obstructions:
The best way to prepare for the delivery of your dumpster is to clean the delivery spot thoroughly. This will allow the driver to deliver the dumpster without difficulty. You can do this by removing any obstructions (e.g., fences, trash bins, children's toys, automobiles, and debris) that may be in the way of where you want the dumpster placed. It is also worth noting that a conventional roll-off vehicle will need a considerable amount of space in order to unload its contents, so keep that in mind while you are cleaning up your delivery zone.
If you need reliable, timely, and cost-effective dumpster rental in Leander TX, call the friendly folks at Duckbox Dumpsters. We offer a wide range of bin sizes and also provide delivery and pickup services for our customers' convenience. Our top priority is providing excellent dumpster rental solutions to every single customer. Call us now for the most affordable dumpster rental quotes!