How to Make Your Dumpster Rental in Leander TX Hassle-Free
Posted By : Duckbox Team
Posted On : March 7, 2022
Whether you are looking to clear out your basement or remodel your kitchen, a dumpster rental in Leander TX is worth considering if you want to handle all that waste effectively. From broken appliances to old furniture, these heavy-duty bins will take on what your residential collection company won't.
When loading the dumpster, you could just toss items in any way you want, but there're ways to load your container proficiently in order to make the most of the available space. After all, you will wish to toss as much as possible to keep your rental cost down. Listed below are a few tips on how to make the most of your container.
Load evenly:
If bulkier items are loaded up on one side, the container can become unstable. The items in the bin can overturn, prompting a hazardous situation. Allocate heavier trash materials along the bottom. Then load the lighter things on top. Though it can be tough to arrange items by weight, this extra effort can go a long way.
Bag lighter items:
Paper documents, clothing, and old Styrofoam may fly out of your bin on a windy day. Before throwing it into your bin, lighter materials should be bagged up. During your project, keep large waste bags handy, so you can bag and keep moving as you go. Bagging also lets you free up container space for other trash.
Steer clear of overfilling:
Once it is filled to the top of the sidewalls, you should arrange to have it hauled off. Overfilling a container may lead to debris falling out or being carried away by the wind. Additionally, many firms may deny hauling a dumpster that is overloaded. So it's best to either re-organize your trash to make everything fit or think about an extra bin rental.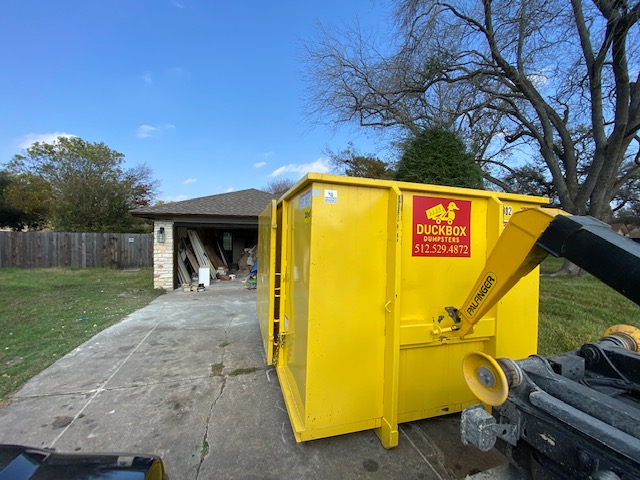 Better planning is equal to better results:
It isn't that loading up your container is tough – it is that a small bit of planning can boost efficiency. With better planning, you will not just save yourself time & stress; your effort can even save you a bit of money which you can use on other important projects.
Here at Duckbox Dumpsters, we have been offering affordable dumpster rental in Leander TX since our inception. We are trusted by contractors and homeowners throughout the Texas region for our affordable dumpster rental services. Rent one of our 10 or 20-yard containers for your next clean-up or renovation project.