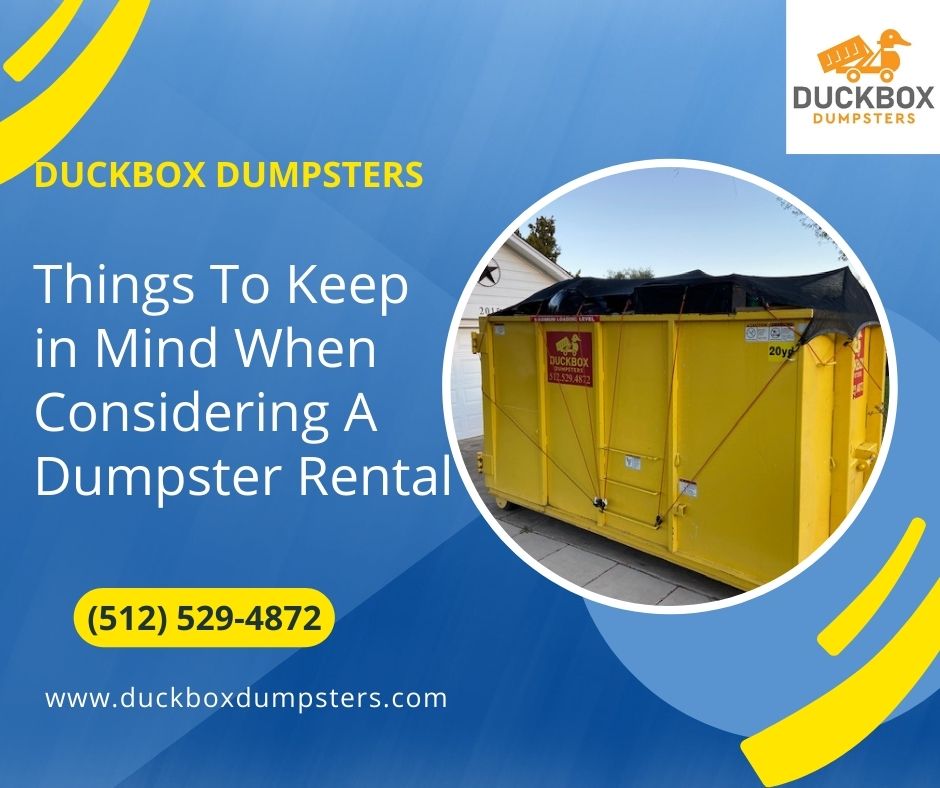 Things To Keep in Mind When Considering A Dumpster Rental
Posted By : Duckbox Team
Posted On : August 6, 2022
Dumpster rentals are in demand for several reasons, but the most important one is that it allows you to get rid of any unwanted items without having to pay a hefty fee or take time out of your day to haul them somewhere else.
When it comes to construction, remodeling, and other large-scale projects, think of dumpsters as your best friend. They're easy to use, affordable, and help you keep your home or business clean – and that's just the beginning!
There are a few things you should keep in mind when considering a dumpster rental in Leander TX, though. First, make sure that the dumpster is big enough for all the trash you need to throw away. The first thing you should do when renting a dumpster is measure your space and then choose the right size. The ideal dumpster size will be large enough for all of your trash, but not so big that it leaves only half full 🙂
Second, be sure that whatever you're throwing away can be disposed of legally in your area; if not, there might be fees associated with getting it out of the dumpster once it's full and disposed of correctly.
Third, make sure not to overload your dumpster; this could increase your costs and cause problems for others who use this service later on after you're done with it!
Finally, contact us at Duckbox Dumpsters for all your dumpster rental needs! We'll help you find the perfect size container for your project, and we'll even go over what's allowed in each case so you don't get into trouble while renting one from us!
How Do I Know Which Type Is Right For Me?
Dumpster sizes can vary greatly depending on where they are being used. For example, a small 10YD dumpster may be perfect if you are doing some landscaping work by yourself but would not be able to handle larger loads such as large amounts of dirt or debris from a construction site. On the other hand, if you want something with a bit more capacity then we recommend getting something bigger like our 20 cubic yard roll-off containers. Call Duckbox Dumpsters now for pocket-friendly Dumpster Rental in Leander TX!