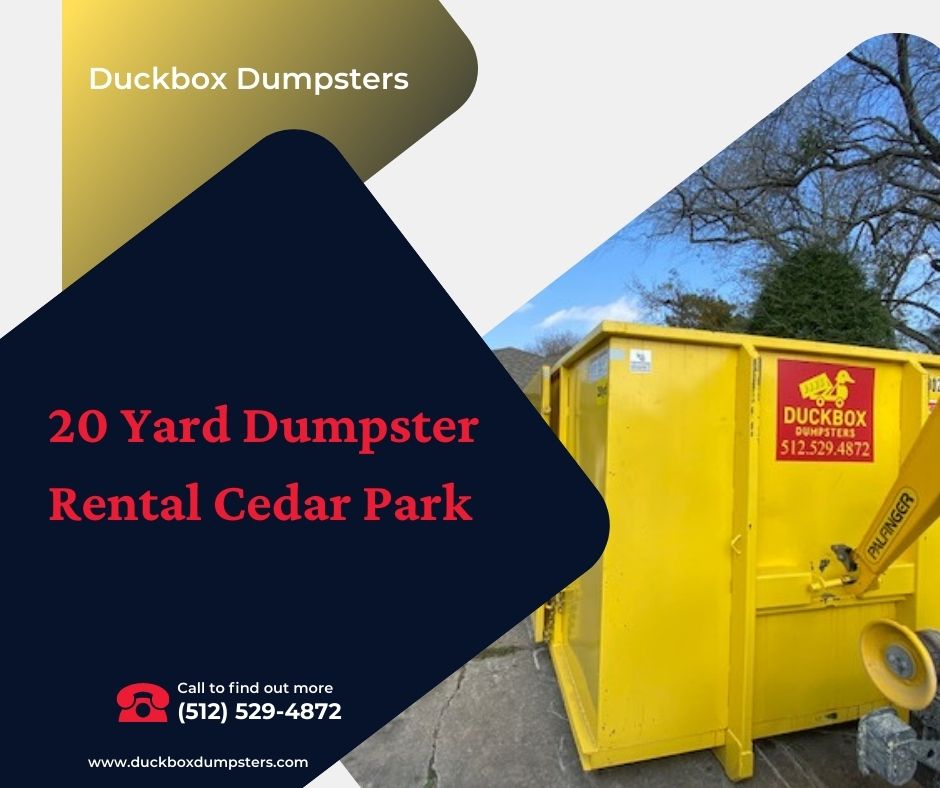 20 Yard Dumpster Rental Cedar Park
Posted By : Duckbox Team
Posted On : July 18, 2022
For waste removal on smaller projects, there is no better alternative than a 20 yd dumpster rental in Cedar Park. Here at Duckbox Dumpsters, we specialized in 20 yard dumpster rental which is the best option for relatively small projects such as residential waste removal and small construction projects, including yard care, remodeling, and interior renovations. You will find our 20 yard dumpster rental prices in Cedar Park extremely affordable.
With our 20 yard dumpster by your side, you can manage practically any kind of residential or small construction project, including:
        Say goodbye to basement, attic, and garage junk
        Downsizing prior to a move –Use our 20 yard dumpster in Cedar Park to get rid of carpet, furniture, clothes, boxes, appliances, and more.
        Disposing debris sourced from kitchen or bathroom remodel
        Yard junk clean-up, such as getting rid of shrub clippings, tree limbs, and other landscaping waste.
        Post-event cleanup – Renting our 20yd dumpster for an event is the ideal solution for your post-event disposal needs including holiday celebrations, carnivals, and more.
Enjoy Convenient Placement With Our 20yd Dumpsters:
The best thing about our twenty-yard container is that it is tiny enough to be placed in a significantly restricted space and/ or maneuvered into different locations on your property.
Homeowners who have only limited space available will find our 20 yarder the best dumpster rental option. Similarly, a 20 yarder is a perfect fit for a project on which you have to move the container from one site to another to make sure easy access as the project evolves.
Rent Sturdy & Durable Dumpsters For Your Next Cleanup Project:
You are guaranteed absolute durability when you rent a 20 yarder from Duckbox Dumpsters. Each of our units is made from top-quality materials and can endure the most rugged jobs. Our 20yd roll-off container is the answer for all of your small to medium-sized construction project waste disposal needs.
How much weight fits in a 20-yard dumpster?
Weight varies on the type of material being placed in the dumpster. You can imagine a whole attic of insulation may only way 600 pounds but just a few square feet of a concrete driveway we'll wait a few thousand depending on the thickness. Our 20 yard dumpster includes 3 tons of material, if you know the type and size of material being placed in a dumpster or happy to give you an estimate as to what that may weigh 🙂
How Much Can I Throw Away in a 20 Yard Dumpster?
A 20 yard dumpster holds 20 yd.³ of material. Cubic yard is approximately the size of a residential washing machine, so it would hold 20 washing machines. A 20 yard dumpster will hold about 100-150 contractor style 33-gallon trash bags or 5-8 pickup-truck bed loads.
Surely your search for the most affordable 20 yard dumpster rental near you ends here at Duckbox Dumpsters! Call us on (512) 529 4872!