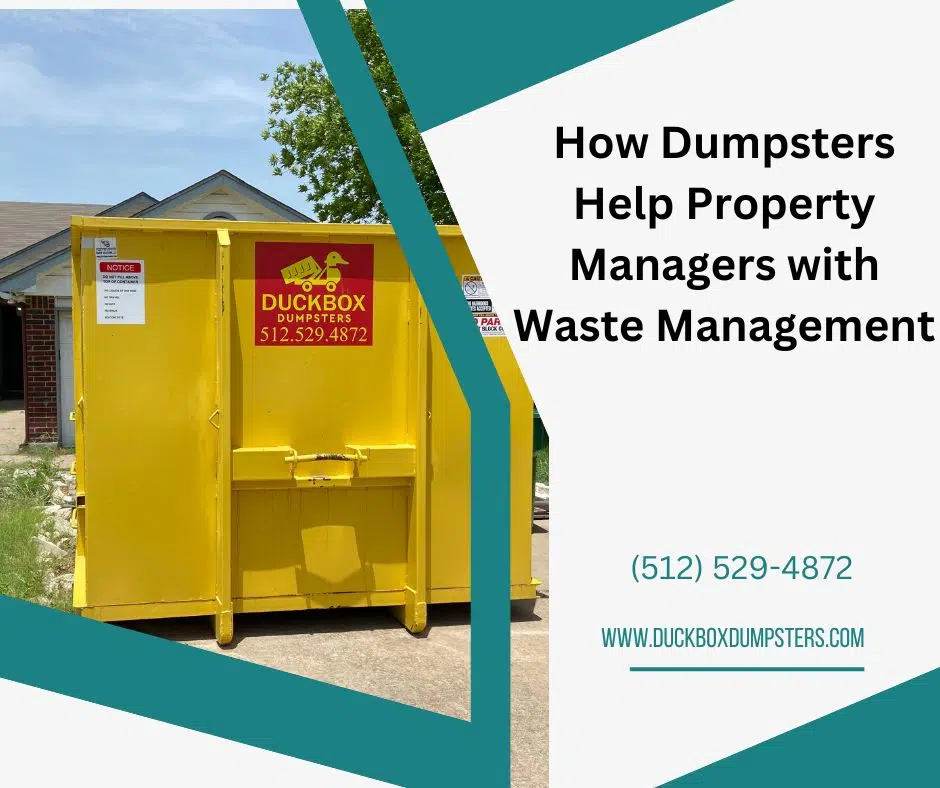 How Dumpsters Help Property Managers with Waste Management
Posted By : Duckbox Team
Posted On : February 15, 2023
Property management is a complicated business, with many moving pieces. Dealing with trash, debris and yard waste are just a few of the tasks involved. Duckbox Dumpsters makes it easy to get a commercial dumpster rental in Cedar Park on short notice. Below, we've listed just a few ways that our service can make property managers' lives easier.
Renovations & Repairs:
When renovating any building, contractors must deal with a significant amount of debris. Much of it is sharp or hazardous, so it needs to be properly managed. If you're renovating several units or a large amount of square footage, keeping the debris under control will be vital. The most effective solution is to rent a roll-off dumpster that can contain all the debris and keep it safe until it can be disposed of properly. Renting from a company like Duckbox Dumpsters means you can keep the dumpster for as long as needed while still receiving prompt service.
Unit Cleanouts:
When tenants and businesses leave behind a massive amount of belongings or trash when a lease is up or terminated prematurely, it can be challenging to get the debris out of the building safely without creating an eyesore. Duckbox Dumpsters offers prompt Cedar Park Commercial Dumpster Rental to take care of these unexpected clean-outs quickly so that you can get your building or unit back in shape for showing and leasing as soon as possible.
Property Cleanups:
Aside from landscaping and routine maintenance, property managers sometimes have to deal with more significant cleanups around the property. Removing trees, and adding a basketball court or other recreational structures can leave you with a lot of debris to clean up. A dumpster can make it easier to dispose of all that trash.
At DuckboxDumpsters, we make it easy to receive a quote and get your dumpster delivered quickly. We offer 10 yard, 20-yard and 25-yard dumpsters suitable for all your commercial disposal needs, and in most cases, we can have your dumpster delivered to your location the next business day.
Call us at (512) 529-4872 to book your Commercial Dumpster Rental in Cedar Park.