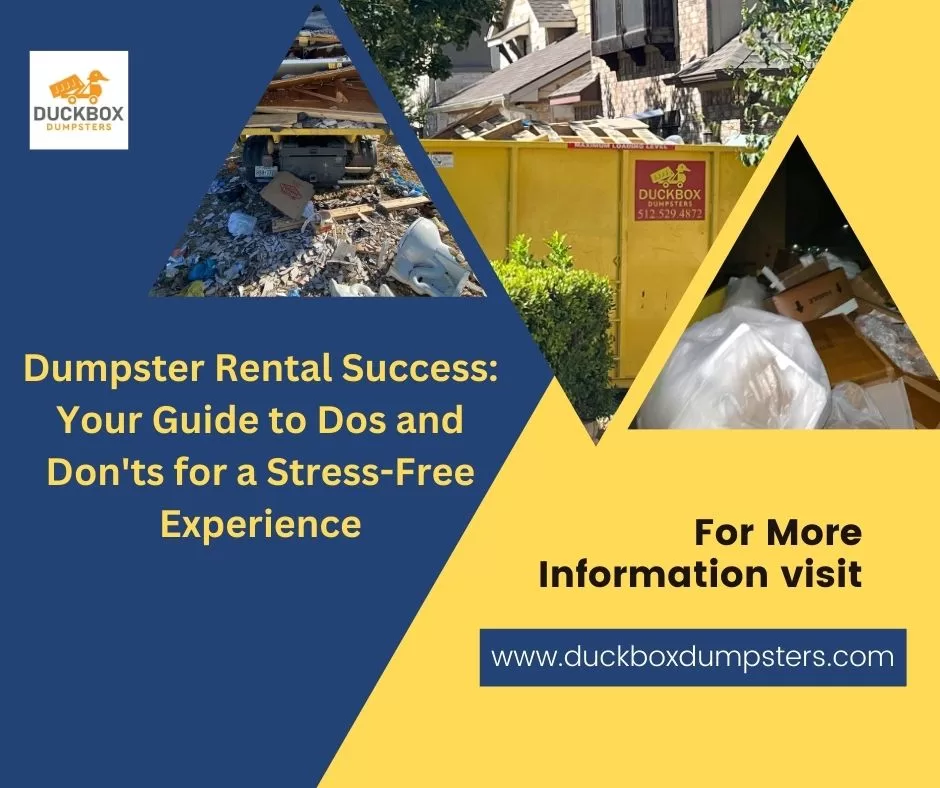 Dumpster Rental Success: Your Guide to Dos and Don'ts for a Stress-Free Experience
Posted By : Duckbox Team
Posted On : September 25, 2023
Dumpster rental can be a game-changer when it comes to managing waste for various projects, whether it's a home renovation, construction job, or decluttering endeavor. However, to ensure a hassle-free experience and make the most of your dumpster rental, it's essential to follow some dos and don'ts. We'll explore these crucial tips and how Duckbox Dumpsters can help you achieve a stress-free dumpster rental experience.
Dos:
1. Do Choose the Right Dumpster Size:
Consider the volume and type of waste you'll be disposing of when selecting a dumpster size. Opting for a size too small can lead to overflow issues, while a size too large may be unnecessary and costly.
2. Do Plan Ahead:
Schedule your dumpster rental in advance to ensure it arrives when you need it. This helps you coordinate your project timeline effectively.
3. Do Understand Local Regulations:
Take the time to acquaint yourself with the local rules and regulations concerning dumpster placement and waste disposal. This will help you ensure full compliance with the law.
4. Do Prepare the Drop-off Location:
Clear the area where the dumpster will be placed. Ensure there are no obstacles, such as vehicles or low-hanging branches, that might hinder delivery.
5. Do Load the Dumpster Properly:
Distribute the weight evenly inside the dumpster to prevent overloading one side. This helps maintain stability during transportation.
Don'ts:
1. Don't Overload the Dumpster:
Avoid filling the dumpster above its designated fill line. Overloaded dumpsters can be dangerous and may result in additional fees.
2. Don't Dispose of Prohibited Materials:
Most dumpster rental companies have restrictions on certain materials like hazardous waste, chemicals, and electronics. Do not dispose of prohibited items in the dumpster.
3. Don't Block Access:
Ensure that access to the dumpster remains clear for both you and the rental company during the rental period. Blocking access can lead to delays and complications.
4. Don't Forget to Communicate Pickup Date:
Notify the rental company of your desired pickup date. Failure to do so may result in the dumpster being removed before you've finished your project.
5. Don't Ignore Environmental Responsibility:
Dispose of waste responsibly. If you have recyclable materials, separate them from general waste to reduce the environmental impact of your project.
How Duckbox Dumpsters Can Help for a Hassle-Free Experience:
When it comes to achieving a hassle-free dumpster rental experience, Duckbox Dumpsters is your reliable partner. A successful and hassle-free dumpster rental experience relies on following essential dos and don'ts. By choosing Duckbox Dumpsters as your rental partner, you can enjoy a seamless experience with various dumpster sizes, transparent pricing, environmental responsibility, reliability, and local expertise. Whether you're planning a home renovation, construction project, or any waste disposal endeavor, Duckbox Dumpsters is your go-to solution for a stress-free dumpster rental experience.